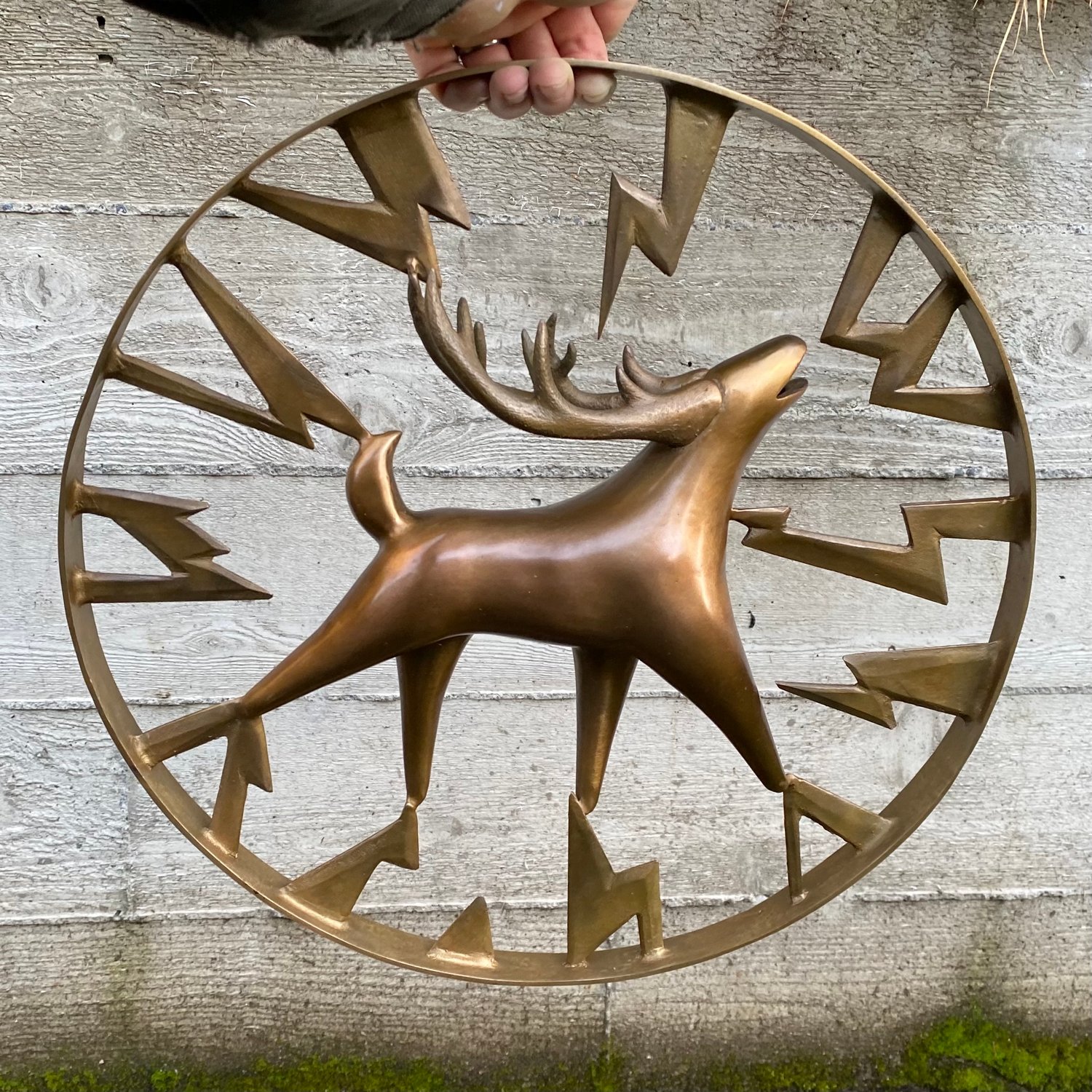 "Sun", 2021,
Cast bronze with patina
One of an edition of three
15" wide x 15" tall x 3" deep
******
Important: this piece is part of my solo show "Mythical Worlds" at the Bainbridge Island Museum of Art, which runs through August 28th. It will not ship until the show is down and I've had time to pack it. It will mostly likely ship in mid September, depending on the complexity of packing it.
*****
"Sun" is part of my ongoing exploration of myth. This bronze piece is part of an idea that I first explored (unsuccessfully) in clay 15 years ago. I made two beasts inside of giant wheels, a sun and a moon, ready to role across the sky. The clay wasn't right for the idea, and they both crumbled. I shelved the concept until I learned to cast bronze, and finally had the right material for the project. This piece hangs from above, on two anchor points.
About the process:
This is a hanging sculpture, of a proud bronze beast. I created the original sculpture in clay, and did all the mold making, casting, and patina myself, using the lost wax process. This is one of three that I will create before destroying the mold. There may someday be a moon counterpart to this piece, but not yet.
About shipping:
The shipping cost is my estimate for covering shipping and insurance, via UPS. If the cost of shipping is less, I'll refund any extra. I can also delivery it locally, and refund you the whole shipping cost. The beast is removable from the mountain.
For international shipping, the buyer will the responsible for import taxes. I can't presently ship to the UK.
About payment:
Interested in paying in installments? Check my FAQ page, then shoot me an email, and we can make it happen. However, this option only becomes available twenty four hours after my sale starts.